Commercial Boiler Servicing in Watford
For businesses in Watford and the surrounding area, Happy Heat specialises in commercial boiler servicing. Our engineers are fully experienced, Gas Safe registered and highly professional. Book your next boiler service with us today and you won't be disappointed.


The benefits of commercial boiler servicing
We would like to discuss with you the advantages of hiring a professional boiler service since we know how challenging it can be to maintain the boiler and heating systems on your property on a regular basis.

Prevent Expensive Repairs in the Long Run

Regular maintenance on your commercial boiler will help you avoid more expensive issues in the future. Although you would need to make an initial expenditure on a professional service, it might end up saving you a considerable amount of money. Our skilled engineers are qualified to spot any potential problems and perform any required maintenance, repairs, or replacements.

For a business to be successful, you need a reliable boiler. Routine maintenance may guarantee that your boiler is operating at its peak efficiency, reducing the risk of unanticipated failures or delays.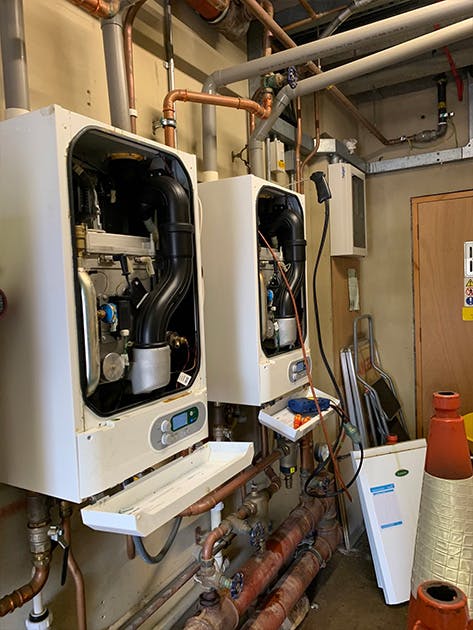 Make Sure Your Property is Safe

Not only is a qualified boiler service essential for your company, but also for the security of your property and staff. To ensure that your boiler is operating properly and that your property is free from any dangers, our thorough boiler servicing can identify any potential issues.

Why choose Happy Heat?
We're glad you asked! At Happy Heat, we know that our key to success is ensuring the happiness of our customers. That's why:
Our rates are competitive
We have great communication and answer the phone promptly
We're reliable and show up on time
We always call ahead with a timeslot so you know when we'll be there
We work around your busy schedule and attend a time that's convenient for you

Covering all aspects of commercial heating
We don't just offer commercial boiler servicing, we cover a comprehensive range of services to make sure your business has all the support it needs. This includes, but is not limited to:
Commercial boiler installation
Commercial boiler repair
Commercial boiler maintenance contract
Commercial boiler maintenance

Whatever your company's requirements are, we invite you to get in touch so we can support you the best we can.
Book a boiler service for peace of mind
When it comes to their boiler servicing, Happy Heat is committed to giving our customers peace of mind. You may rest easy knowing that your boiler is in good hands because we provide thorough servicing.

Go no further than Happy Heat if you need a trustworthy and knowledgeable business boiler service in Watford. Do not hesitate to contact us at 0800 246 5457 to learn more about how our skilled team of engineers can offer you the support you require.